Out of the boat today. Tired. Recovery day. Normally, Thursday mornings, I am on the water by 7am and paddle to the Golden Gate Bridge and often beyond to Point Diablo before I begin my workday. I love starting my day on the water, quiet, feeling the water, my focus on form, not speed and being among the sea birds, porpoise and harbor seals. Often sola. Last Thursday, just before arriving at Point Bonita, my buddy, James, and I saw a gray whale sloshing along while we rode up and over 10+ foot ocean swell that felt we were riding up hills and down hills. Salt water heals.
Yesterday, as usual, I met our weekly Wednesday interval training group for speed work at 7am.  We are an eclectic group of paddlers who race various crafts- outrigger canoes, surf skis and standup paddle boards. During the past month, we have been working on building base strength. This next month, we are working on speed. Some of us, including me, are training for the Maui to Molokai, Pailolo Channel crossing, in Hawaii this April.  Carter Johnson, our coach, likes to refer this morning's interval workouts as "burn outs". Well named and did the trick!
Last week, I logged 60 paddling/training miles. For the past few months, my average mileage has been 35-40 miles. Last Sunday, a group of us did a 30 mile paddle on the beautiful lower North and South Forks of the American River to celebrate our friend Amy's belated birthday who is training for the Yukon River Quest, a 440 mile endurance race. We were another delightful eclectic group of paddlers with various crafts including a marathon canoe. Calm winds and a mild winter day in the Sierra foothills blessed us.
Today will be a needed rest day. Last night, achey shoulders and not a very sound sleep. My shoulders are asking for a break. I listen to my body wisdom. Laying low on a rainy day- cooking, working, stretching and resting. Self-care in practice.
Be sure to check out the other pages, About and Living with RA, on this site for more info. Also check out my YouTube channel and subscribe please. Thanks for visiting! Stay tuned for more.
Feature Photo Credit: Mike Martinez
_____________________________________
Below Photo: Early Morn Interval Crew- Just a few of us.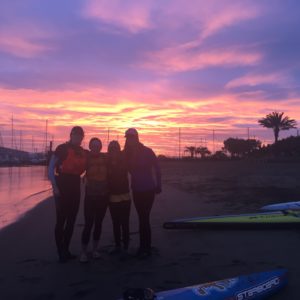 Below Photo: Lower North Fork of the American River with nice form!